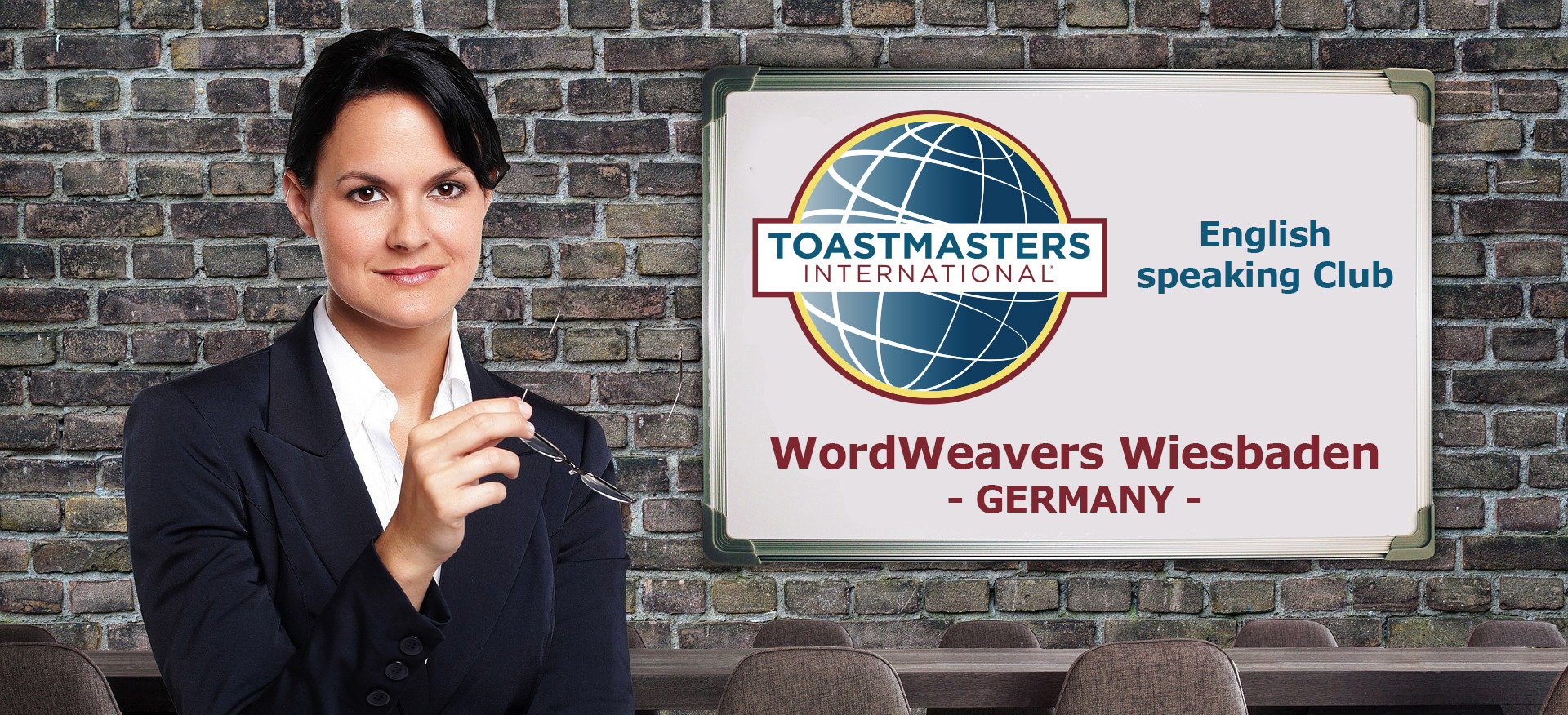 PRACTICE SPEAKING WITH FOCUS AND FUN
Guests are welcomed – ask for your personal invitation. We meet every 2nd and 4th Wednesday a month at 7:30 p.m. Currently, we meet in Wiesbaden Performing Arts Center in Hellmundstr 33, Wiesbaden
Club Meetings
Standing in front of an audience and giving feedback are key competencies in modern (professional) life. In our club meetings you can develop that skill with FOCUS and FUN.
WHAT MAKES OUR MEETINGS SPECIAL
Our meetings are highly interactive with a fair share of laughter.
You proceed according to your own pace.
After each speech you receive honest and encouraging feedback called "evaluation" both orally and in writing.
You learn to listen to other speaker and detect the ingredients of a seasoned speech.
Word Weavers provides a safe, supportive environment to practice, experiment and grow.
Who are we?
Toastmasters come from all walks of life, aged from 18 – 80. One member may regularly have given presentations at work and wants to achieve the next level of excellence. Another member may have been scared to death merely by the thought of standing in front of an audience.
We all have our individual goals, we are all united by our interest to grow and to see others grow.
Toastmasters is a world of opportunities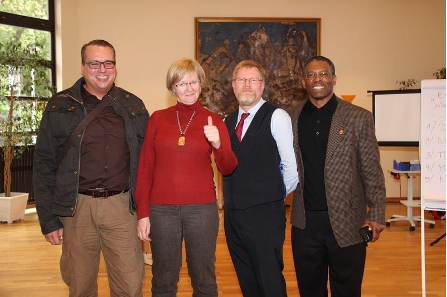 There are so many reasons why I love being a member of Word Weavers. Here are just a few: it's a great place to meet people from all different walks of life, to enjoy listening to speeches on a wide variety of topics, to challenge myself to get out of my comfort zone and gain confidence by giving speeches (prepared and impromtu). I always leave inspired.

Joanne
As I am new in Germany, I felt a very warm welcome by the members of WordWeavers Toastmaster club when I first met with them. It helps me to gain new friends and also to build my confidence in public speaking. I don't think this can happen anywhere else than a Toastmaster club!

Chen Hing
Word Weavers is a wonderful place to try something new. I was used to giving business presentations before I joined Word Weavers; I was never afraid of standing in front of an audience. However, in our club I dared to give my speeches and presentations a special note, to make them more emotional. My fellow club members support me on this journey by giving honest and encouraging feedback. I also gain from listening to the speeches of other fellow toastmasters. After a Word Weavers Meeting I feel relaxed.

Regina
I visited my first Toastmasters meeting 15 years ago as a guest and I understood at once that Toastmasters is a great chance for me to improve myself in the difficult field of communication and leadership. I decided not to wait any longer and joinedt at in the next meeting. Since then I have been living Toastmasters because every meeting gives you the chance to continuously practice ing and gain experienceing. So come and live Toastmasters in Wiesbaden with our club the Word Weavers!

Martin
I am very proud and thankful to be a member of the great organization Toastmasters International. All members of our Word Weavers Club help to discover our strengths. So, we can develop naturally and effectively to become a leader.

Christa
I have so many online meetings, but still TM is so much different, stimulates you in a positive way.

Monika
Events
We moved to Wiesbaden Performing Arts Center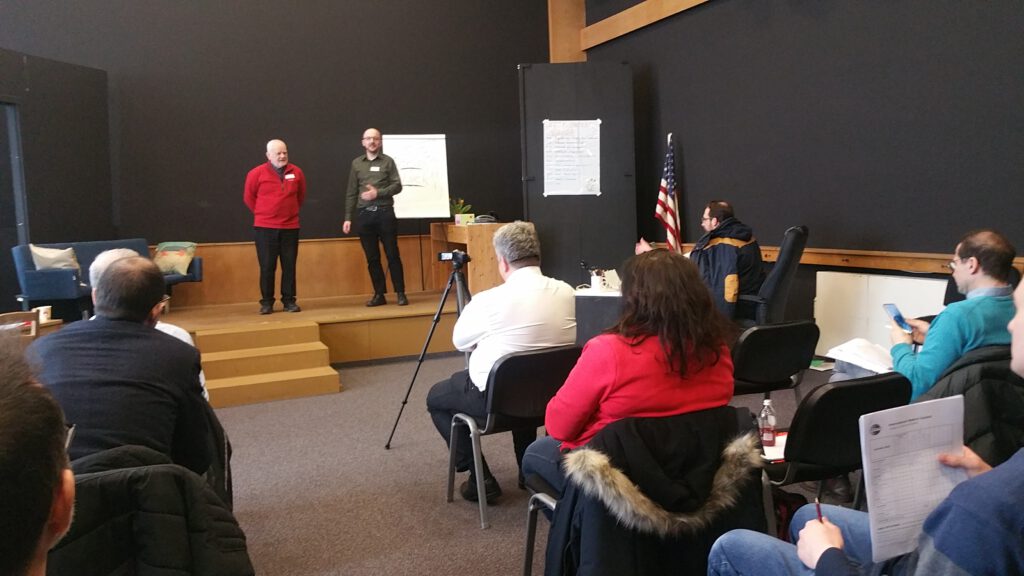 Everybody was delighted to experience speaking from a stage. In this venue we have the chance to adopt according to the occasion. It is possible to look in one direction and use the stage, but it is also possible to look in another direction and speak on the same level as the audience.
Christmas Party
The Word Weavers Christmas Party is always something very special – though it is not to be taken too serious.
The evening has clear features of a toastmaster meeting, and combines it with a Christmas athmosphere. In the past years we gathered in a place where we had a Christmas tree.
Very handy to hang up small sackets with presents.
Actually, there are some similarities between Knecht Ruprecht asking children to cite a poem and the Table Topics Master asking a question that needs to be answered off the cuff. Here it is the Christkindl with her two angels who selecte the sacket and the recipient of the present and the question. "Why is this the present you always dreamt of?"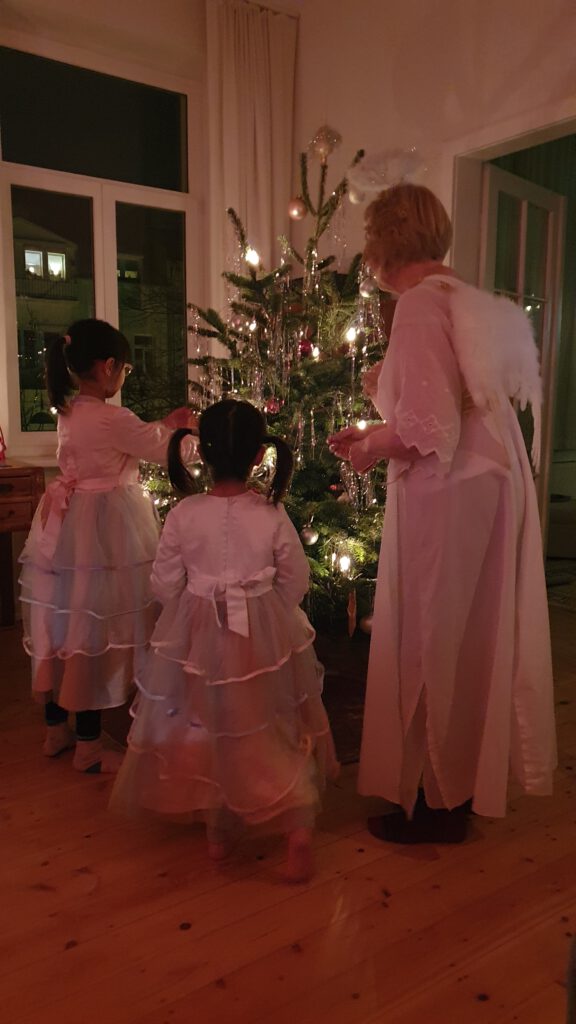 It's autumn time –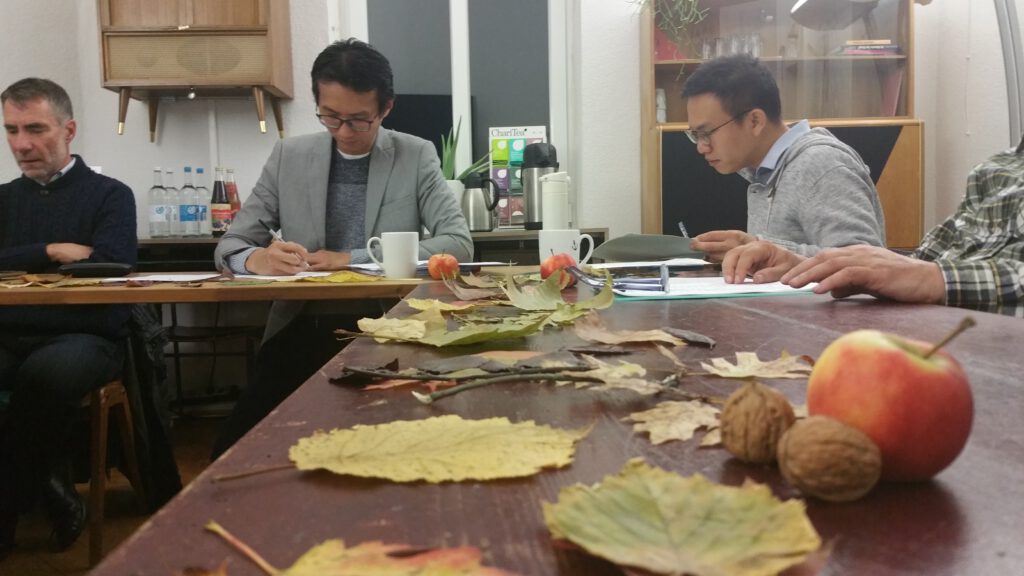 In the break our speaker are concentrated to prepare the evaluation for the speeches of the first part of the meeting. The core of toastmasters is immediate feed-back.
And autum time means Halloween. We had an online meeting, with a very special toastmaster of the evening. It was not her first appearance. Last year she gave her icebreaker: Hallo Ween. Already at her second appearance she professionally led us through the programme. Our guest from Sweden was impressed.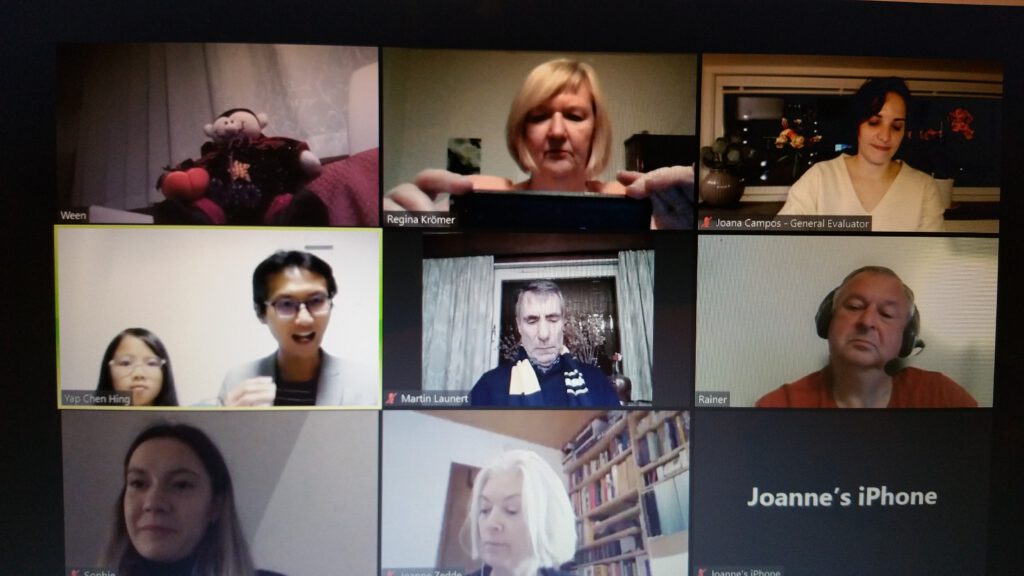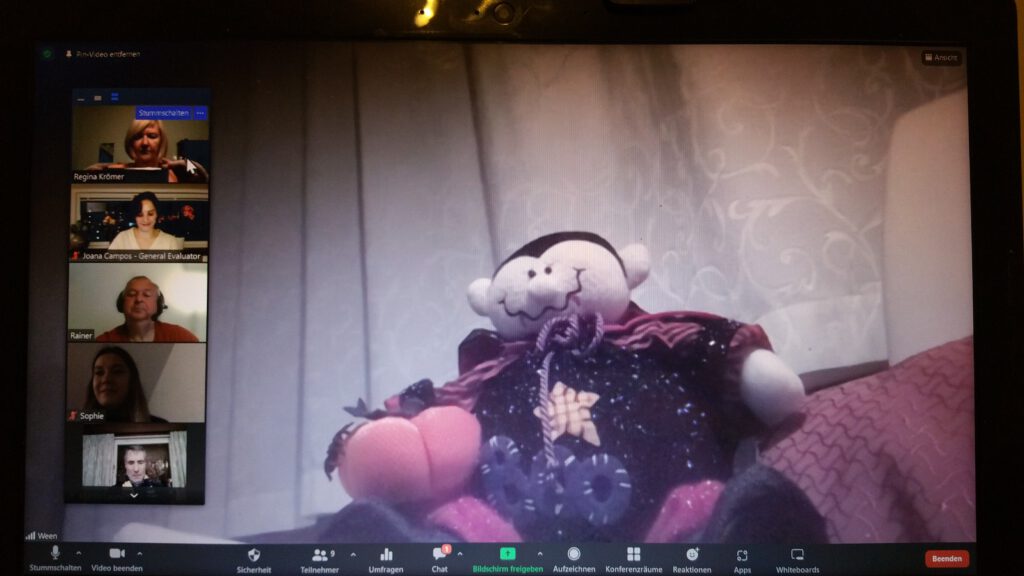 Area Contest Winners
Organising a digital Christmas meeting was without doubt quite a bit of a challenge. With hindsight I only regret that the photos I took from the screen are completely blurred. The rest was all the effort worth as the incoming mails from my fellow Word Weavers showed me.
Some quotes
Tolle Weihnachtsfeier gestern. Große Neugier bereits durch vorherige Post, viel Kreativität und schöne Überraschungen während unserer Wordweavers-Sitzung und passende Programmpunkte ergaben in Summe eine sehr weihnachtliche Stimmung, die online sicher nur schwer erreicht wird.
Thank you so much for organising the first Word Weavers online Christmas Meeting.
After a frustrating day at work and leaving Wiesbaden much later than planned, I got home with only minutes to spare but couldn't start my computer, so had to log in with my I-phone at first until I got my pc going. It's fair to say, I was not feeling the Christmas spirit at all.
However, the programme was wonderful, I loved Knecht Ruppert's quiz (even though I'm sure I go most of the questions wrong), table topics were a joy (or a Jay), and it was a pleasure to be one of the three Kings and on a discussion panel. Your little envelope with gifts was a lovely surprise. I thoroughly enjoyed the evening and by the end, I had forgotten all about my awful day and best of all, I'm spiritually ready for Christmas!
Thank you again for this enchanting meeting. Word Weavers' Christmas meetings are really something very special.
Thanks for this wonderful and joyful online Christmas party.
Outdoor meetings
Outdoor meetings in summer are a thrilling experience. They expose us to different environments, they also offer chances to support speeches in an exciting way.
Corona time was outdoor time. We met certainly with due distance.
Christmas Meetings
This is one of the highlights of our club meetings. Usually, we get "special guests" such as Father Christmas, or the Three Holy Kings …. And each year there are some surprises. The whole format with unusual perspectives on Christmas typically ignites laughter and amazement.
10th Anniversary
Speaking
Your best ideas deserve your best Words
We support you to find your words – and not only your words. Our bodies, hands, faces speak as well.
Dazu die Photo-Ausschnitte unten passen. Leider weiß ich nicht, wie es mit der Qualität ist. Falls die nicht gut genug ist, könnte ich hier zumindest nach Ersatz forschen.
Prepared speeches
The toastmasters path to success is a structured, digitally supported programme called "Pathways". With a choice of 11 different paths you embark on a journey that starts with the icebreaker and leads you via a sequence of speech projects to proficiency. Whilst the exact content of a speech is entirely up to the speaker, the pathways speech project provides guidance on body language, vocal variety, insight into communications styles, speaking at special occasions ….
Speaking of the cuff
It may be a colleague, a customer, your boss or your kid who confronts you with an unexpected question. In our table topic session we practice finding and presenting responses that convince.
Evaluation
In the second part of each meeting the previous speakers receive feedback on how the speech was perceived. This is a unique opportunity to learn about the reactions of the audience. And after a short period you can give evaluations yourself which will give your own speaking abilities another bost.
Leadership
Great leaders are great communicators
A toastmaster wears many hats. Apart from giving speeches, the meeting provides ample opportunities for first leadership roles. Each role offers the chance to apply basic leadership skills such as listening, motivating and encouraging.
The Toastmaster of the Evening leads through the programme and sets the tone of the meeting. Introducing the speakers in an entertaining way and making a meaningful comment or summary of the previous speech is among the tasks.
The Table Topics Master prepares the off-the-cuff-session by thinking of thought-provoking questions for various levels of speakers and leads through this part of the evening.
Basically everybody has had to listen to a speech that lasted much longer than scheduled. The Timer measures how long each speech actually lasted.
The Grammarian points out grammars errors but as may highlight particularly impressive phrasings.
The Ah-counter listens carefully and gives feedback on the use of filler words, all the ahs and umps.
The evaluators play a key role in the toastmaster concept. They give feedback how they perceived a speech. This role requires good listening skills, analytical skills but as well motivating skills as valuable feedback is specific and contains both aspects that went particularly well and aspects that offer room for further development.
Club level
Taking the role of a club officer is the next level of leadership. In a team you can shape your club.
Being Club President provides the opportunity to develop and apply strategical skills. A Club President leads the fellow officers and is instrumental to the wellbeing of the members and thus the club as a whole.
The Vice-President Education is the manager of the meetings meeting, prepares the agenda and oversees the educational programme.
The main task of the Vice-President Membership is taking care of members and guests of the club.
The Vice-President PR is in charge of the webpage, the social media, press releases and anything that has to do to promote the club in the public.
The Secretary supports the VP-Ed with the documentation of the meetings as well as each member's progress in the Toastmasters digital learning platform Pathways in order to recognise members' achievements.
The Sergeant at arms prepares the meeting location and holds the club's possessions.
The Treasurer is in charge of the club's money, collects the membership and oversees expenses.
Beyond the club
There are ample opportunities beyond the club level – be it by organising a small project or even an international conference or running for n international leadership position.

Frequently Asked Questions
Why should I join?
We can think of 9 compelling reasons:
Increase your self-confidence
Overcome the fear of public speaking
Improve your communication and public speaking skills
Get feedback and give feedback
Learn from experienced speakers
Improve your ability to answer impromptu questions
Get to know new people with various backgrounds and cultures
Challenge yourself in a fun environment
Get the opportunity to lead others to success
Where do you meet?
Our meetings take place at co-working space Heimathafen in Wiesbaden.
You can find the directions ⇨here.
When do you meet?
We meet every 2nd and 4th Wednesday of the month, at 19:30.
How long do your meetings last?
Our meetings take 2 hours, from 19:30 till 21:30.
How much does it cost?
Guests attend our meetings free of charge naturally.Our regular membership fee is 12 euro per month.
Where to find us
We meet every 2nd and 4th Wednesday of the month, at 19:30.
Our meetings are held at the 'Konferenzraum' of co-working space ⇨Heimathafen.
We respect your privacy. Fully!
We do not track you, collect any personal information from you. We use necessary cookies to provide this website.
We are part of Toastmasters International.
The information on this website is for the sole use of Toastmasters' members, for Toastmasters business only. It is not to be used for solicitation and distribution of non-Toastmasters material or information. All rights reserved. Toastmasters International, the Toastmasters International logo and all other Toastmasters International trademarks and copyrights are the sole property of Toastmasters International and may be used only by permission.